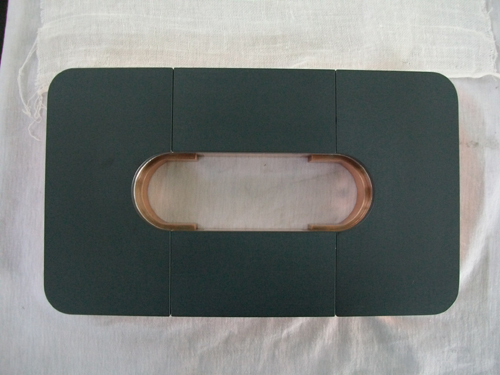 ITO and Cu Backing Plate
Product Description
We are a well established manufacturer and exporter of ITO and Cu Backing Plate to our widely spread clients. It is widely used in TN, STN-type liquid crystal display (LCD) , touch panel (TP), and many other fields as per the requirements of our clients. ITO and Cu Backing Plate is also used for the purpose of tin-plating of steel in order to make tin cans. It is accurately composed at our unit with optimum purity and is highly effective. This has gained us huge appreciation and highly increasing demands.
Production Type:


Automatic
Semi-automatic
Handmade-as per our design


Advantages and Features

We are an eminent exporter, supplying 40% of our products to different countries like Singapore, Taiwan, Japan, Korea and other countries.
With premium quality Indium ingot, tin ingot, distilled water, HCL and NH3H2O, our raw materials are of high quality.
All our production equipment and machinery are imported from Japan.
Our raw materials like indium ingot production are more than 60 tons.
We provide impeccable products have ITO relative density of 99.7%
Also our products purity is more than 4N
We have earned ISO 9001L200 and ISO 14001:2004 for our production facility and environment management system respectively. We are also accredited by BCC and British NQA.


Application of Products


ITO targets have been broadly utilized as a part of TN, STN-sort fluid precious stone showcase (LCD) , touch board (TP), and numerous different fields, and were by and large commended by clients of the business.


Our Quality Assurance Methodology
ITO target preparing is checked by ICP,AFM,SEM,TEM,Malvin LPSA.
Items thickness is checked in view of Archimedes guideline.
Items polluting influence is checked by ICP.
Items resistivity is checked by four test resistivity analyzer.
Fabricate great relationship and participation with Busan University and Baptist University, simple to do the covering test and change about the ITO target.


Specification:


| | |
| --- | --- |
| Item | Specification |
| Composition | In2O3:SnO2=90:10wt,to match customer's requirements |
| Purity | 4Nsee schedule |
| Relative density | 99.7%theoretical density is 7.15g/cm3 |
| Resistivity | 1.8·mm2/m |
| Deoxygenation coefficient | 0.5% |
| Physical specifications | Flaky or other shape, its size and the deviation from the two sides agreed to supply and demand |
| Appearance | Exterior color uniformity; surface smooth, free of cracks, chipping, and without any inclusions and contaminants |
| Internal defects | Internal no cracks, no exotic matter |

Schedule


Impurities—10-6 less than unit wt

Fe

Pb

Zn

Ni

Cu

Cd

Al

Si

Ca

Mg

15

10

10

5

5

5

15

15

15

5